How to find simple and effective skincare
With the beauty industry turning over billions per annum, it's becoming increasingly difficult, confusing and overwhelming to know how to find simple and effective skincare.
It's one thing to find a product that suits you but it's important to see how effective it really is.
Many skincare companies boast of the latest innovative technologies and whilst many are true to their word, it's up to you to do the research.
Best way to start, is to look for products which promote fewer and simple steps to your daily routine and where they provide effective serums for particular needs or trouble spots.
Take a look at the ingredients. Choose products where ingredients are plant based or naturally derived as these tend to be gentler on the skin and more effective. Some products contain active ingredients, which are designed to be effective and deliver the results they are designed to achieve.
It's always a great idea to take before and after photos of yourself. Feeling the skins surface is a good indicator of your results, as the texture of your skin will start to change, often before you see visible results.
With many years of experience and changes in products, I stumbled across a product range to help my son, who was 7 at the time, with incredibly itchy skin on his legs and feet. I was desperate to help him and had tried everything. The product I used was ASAP Soothing gel and the itching was gone after 2 nights of use.
So I thought, I'm going to try the rest of the range and I haven't looked back since.
What I loved most about the products, was that ASAP was designed by a dermatologist with 3 things in mind. His products had to be simple, effective and affordable which he has proven in every way.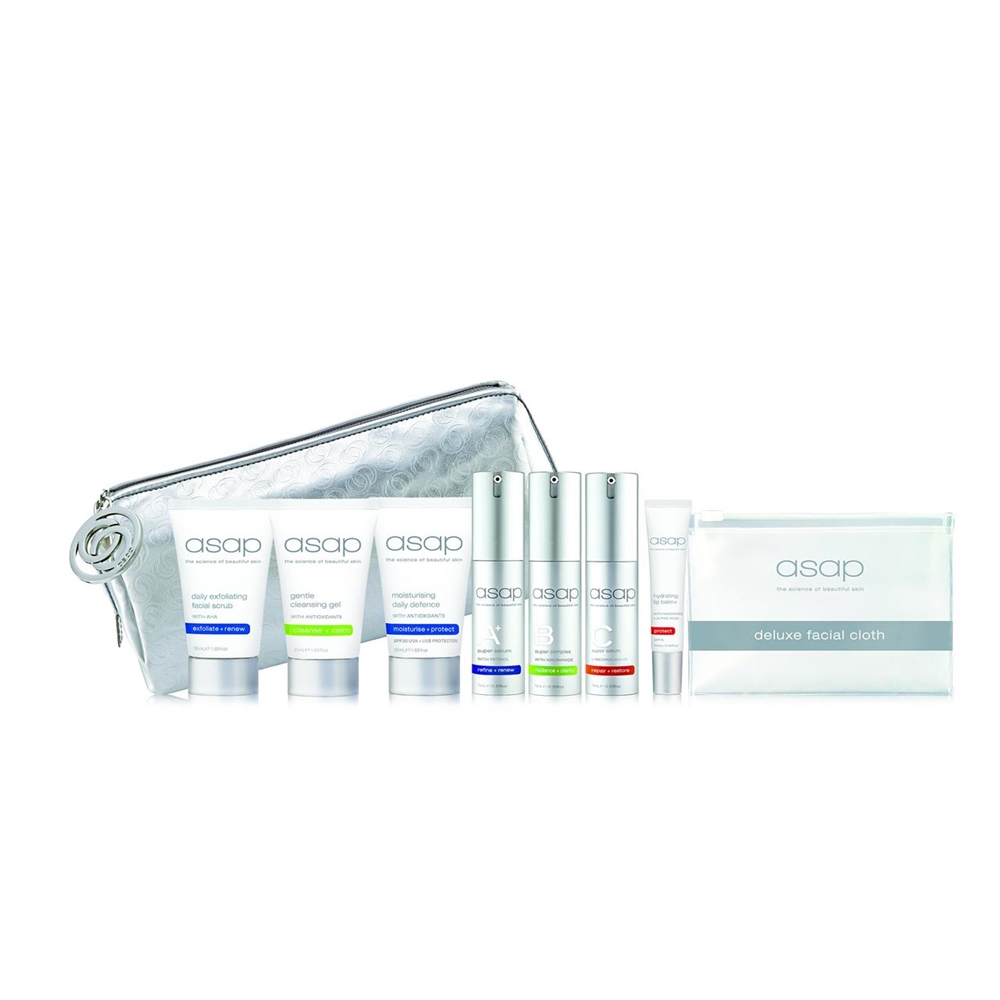 This is how to find simple and effective skincare. Look for packages, which include a smaller option, great to trial the product and perfect for use in travelling. Also, quite cost effective if you're just starting out.
The ASAP Beautiful Skin pack provides just 3 steps, Cleanse, Exfoliate and Moisturise.
It's just what you need to keep things simple, effective and affordable. Perfect 50 ml travel size tubes, and a great way to try the product and enjoy the results. As a bonus for being a subscriber, I'll also include the face cloth to give your skin that extra clean feeling.
Now if you still want to keep things simple but feel your skin needs a little more, another awesome trial size pack is the ASAP Rejuvenate pack complete with the Vitamin serums, lip balm and face cloth. This is my personal favourite, again in a travel size and complete with a chic silver make up bag. Fantastic value, simple with effective results
There are many other packs available, visit my shop to have a browse and feel free to drop me a line with any questions.
I hope I've shown you how to find simple and effective skincare and I look forward to hearing form you soon.
Until next time
Look live feel your best and decide today to live for tomorrow
Always
Anna